Let Smart Tech Security Protect Your Vacation Home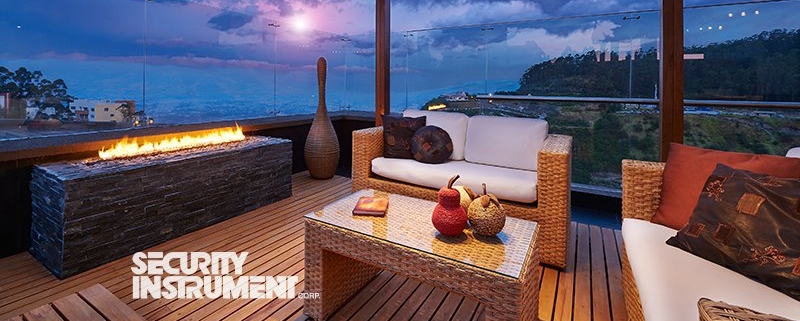 Latest posts by Bob Gamble
(see all)
Everyone's favorite time of year is here; we love the crisper air, the color of the leaves, and the anticipation of the holidays coming up. What most of us don't love about fall, though, is going back to "real life" after a leisurely summer. And if you own a vacation property, there's the added burden of figuring out how your summer home will stay secure for the next few months while you're away. After all, every resort town has its prowlers looking for homes to rob in the off-season – and you want to make sure they don't succeed at breaking into yours. How do you do it? The answer is smart technology. 
No, this isn't the same as the futuristic appliances you only see at the showroom of home and technology expos. This is smart home technology that powers home security systems. It's designed to be more accessible than the devices you see in showrooms, because its ideal users are families like yours. It features:
Cameras that Connect
Home video surveillance has come a long way; it's no longer just for the affluent. Today's smart tech security cameras are for families who want their homes, including primary residences and vacation homes, to be secure at all times – no matter how many valuables are (or aren't) stored inside. After all, your home is your sanctuary and your vacation home is your home-away-from-home.
These cameras can connect to your alarm system, so that the motion sensors and glass break detectors will work alongside your cameras to detect intruders and alert the monitoring center. And of course, they'll alert you as well via your smartphone security app. The cameras connect to your alarm, and they connect to you.
Professional Security Monitoring
If you've ever owned a monitored home security system, you know the value of being able to talk to a live security operator when the system is triggered. With a vacation home, the system is even more valuable because the monitoring center can send law enforcement to your vacation property while you're away. You'll be notified, of course, but you don't need to go to the property unless you want to. If your vacation home is hours away by car, that's a pretty welcome convenience!
Protection from Other Hazards
Not all threats to a vacation home are caused by human intruders. Other threats are environmental: carbon monoxide, flooding, freezing and fire. If you receive an alert that any of these threats are present at the vacation home, you'll be able to act immediately.
See how valuable smart tech security can be – not just for your primary home, but your vacation home as well? To get more details on these systems, contact Security Instrument.
About Security Instrument
Security Instrument is a full-service, independently-owned security integrator that offers numerous residential and commercial security options. We serve thousands of customers located throughout Delaware, MD, NJ & PA.
https://www.securityinstrument.com/wp-content/uploads/2018/09/security-systems-for-vacation-homes.jpg
406
800
Bob Gamble
https://www.securityinstrument.com/wp-content/uploads/2017/04/logo-web-7.png
Bob Gamble
2019-10-01 13:00:36
2019-10-10 18:40:29
Let Smart Tech Security Protect Your Vacation Home