A Guide to Condo and Apartment Security Systems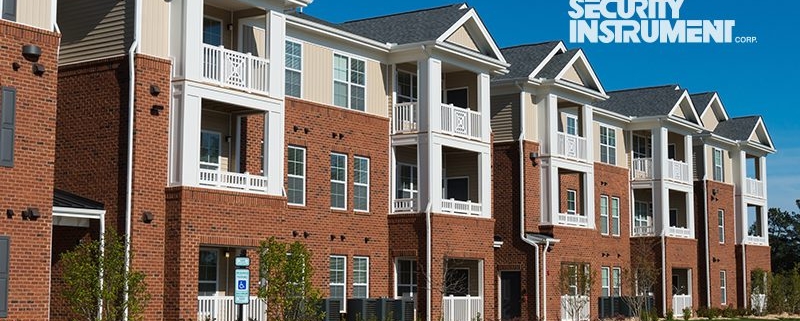 Latest posts by Bob Gamble
(see all)
Perhaps even more than residents of single family rental homes, tenants of apartment and condo properties tend to be concerned about building security. It's understandable, considering there are streams of neighbors moving in and out year-round, all of whom have their own visitors frequenting the property.
Considering this reality, security should be a top priority of condo and apartment HOAs. Unfortunately, security is often one of the go-to line items that associations cut when looking to reduce costs. This is a bad idea, as it can put tenants and the entire property at risk of being victimized – and the end result is liability for the management and ownership. When security is a major concern, condo and apartment managers should consider the following electronic security measures.
Video Surveillance
Residents don't just feel safer when cameras are installed throughout the property; they are safer, because people who may intend to do harm are less likely to do it if they know monitored cameras are watching. The key word is "monitored," which we'll address next. But first, let's talk about the placement of cameras. They should be mounted in common areas like courtyards, laundry rooms, basketball courts, walking trails, playgrounds, pools and roof decks. They can also be placed in locations that show stairwells, both on and underneath the stairs. But why should they be monitored? Let's discuss.
Monitored Cameras
Monitoring is the service that maximizes the effectiveness of any electronic security system, and that certainly includes security cameras. Viewing video footage after a criminal incident has occurred can help law enforcement identify the criminal, but it does nothing to stop the crime from occurring. If cameras are monitored, then the central station can alert the building's management (or the live security guards on site) right away so they can intervene. Without monitoring, cameras are only there to give residents a false sense of security.
Access Control Systems
Electronic access control is no longer just for big city high rises. In today's high risk security climate, access control systems are ideal for housing communities of all sizes. Condos and apartments can place access control systems at the manager's office, playground, pool, laundry room and other amenity areas – but they can also be used in buildings where a lobby must be entered in order to gain access to residences. This can replace a doorman, or supplement the efforts of any live security guards. The access control system can be integrated with the video surveillance system so that the timestamp of access control can be corresponded with the video taken at the same time.
These are some of the most important elements to include in condo and apartment security systems. Delaware residents interested in learning more should contact Security Instrument for a complimentary consultation.
About Security Instrument
Security Instrument is a full-service, independently-owned security integrator that offers numerous residential and commercial security options. We serve thousands of customers located throughout Delaware, MD, NJ & PA.
https://www.securityinstrument.com/wp-content/uploads/2018/10/apartment-security-systems.jpg
406
800
Bob Gamble
https://www.securityinstrument.com/wp-content/uploads/2017/04/logo-web-7.png
Bob Gamble
2019-10-09 19:54:52
2019-10-10 18:40:49
A Guide to Condo and Apartment Security Systems