Bullet, Dome, and PTZ Cameras—What's the Difference?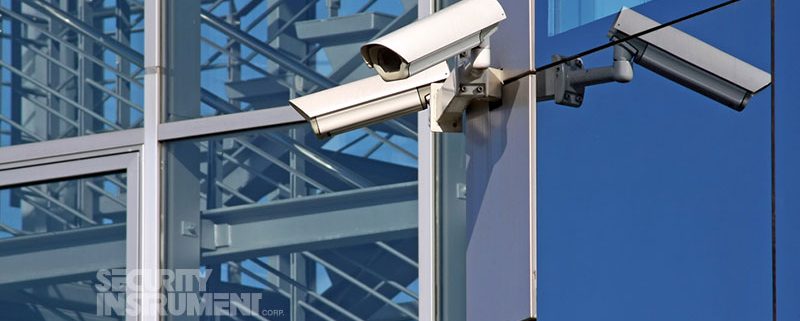 Latest posts by Bob Gamble
(see all)
Commercial security is complex. Not only is it unique to each industry, it is also unique to each particular business and location. One of the many factors that require special consideration is the cameras used in the surveillance system. There are many different types of cameras, each one with functions and capabilities that make them best fit for particular applications.
If you are implementing security cameras in your business, it helps to have a basic knowledge of the cameras that could be used, so you know which ones are best fit to meet the needs of your location.
What is a Bullet Camera?
Bullet cameras, also know of as lipstick cameras, get their name from their sleek shape which resembles the rifle bullet. These cameras are usually fairly small, around 2 to 2.5 inches long and have a fixed focal point lens. With their versatile design, the bullet camera is usually compatible for indoor and outdoor use and often offer a substantial viewing range.
Dome Cameras Have Something to Offer, Too.
Dome cameras are attached to the ceiling or wall and encased in an inverted dome casing, from where it gets its name. the dome is usually tinted to obscure the camera itself so that it is impossible to see where the camera is pointed. These cameras offer a lot of variety and come in CCTV or IP, fixed or mobile, and outdoor and indoor. They may have thermal vision, infrared illuminators, day use, as well as mini and micro versions.
PTZ Cameras are Intelligent
PTZ cameras, or pan tilt zoom cameras look like dome cameras, and are also encased in a hard-shell dome which both protects it and obscures the camera's direction from curious onlookers. PTZ cameras differ though in that they have more capabilities and are capable of remote direction and zoom control. Typically used in surveillance, the PTZ is also a tool used in video conferencing, live production, lecture capture, distance learning, as well as many other applications. In some cases, you might want to consider this camera to serve your business in more than one way in areas that serve more than one purpose.
Which One is Best?
So, now you might be wondering which camera is best. The truth is that neither of them out do the other because they all have capabilities that make them best for a particular application. The right security camera for your application will always outperform one meant for another application. This makes professional installation by a security professional a must. In fact, security camera application is much more than a simple "point and shoot" and involves factoring in a huge number of dynamics such as camera location, intent, lighting, time and conditions of use, obstructions, and site layout just to note a few.
When it comes to security camera technologies, the choice in camera largely depends on how and where you use them. For the best results, it makes sense to have the advice of security camera professionals who know the technology and can use each one to play to their strengths for the most effective security system. If you'd like more information on security camera technology, give us a call. Security Instrument Corp. has been securing what matters since 1960.
​
https://www.securityinstrument.com/wp-content/uploads/2017/02/comparing-video-camera-solutions.jpg
406
800
Bob Gamble
https://www.securityinstrument.com/wp-content/uploads/2017/04/logo-web-7.png
Bob Gamble
2017-02-10 17:37:10
2017-02-10 17:37:10
Bullet, Dome, and PTZ Cameras—What's the Difference?