Smart Home Security and You: The Ultimate Superhero Duo for Halloween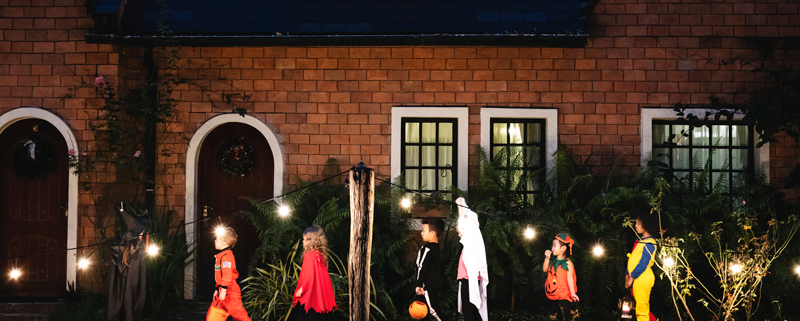 Latest posts by Bob Gamble
(see all)
Be the perfect crime-fighting duo with smart home security this Halloween. Halloween is a fun holiday for the kids, but vandalisms, burglars, and other property crimes are prevalent. Property crimes are crimes of opportunity, so don't provide criminals with open invitations to target your home.
Get Alerts for Routine Security Risks Around the Home
Parents are often in a hurry to get out of the house to appointments, work, school, and more. So, it's easy to forget things like shutting the garage door or setting the alarm. We get it, and that's why smart home security is invaluable to busy homeowners.
On Halloween, you may be in a hurry to get the kids out the door for trick or treating and forget to close the garage door. Intelligent security notifies you using your smartphone. All you need to do is click the button in the alert, and the system shuts the garage door for you.
Proactively Prevent Crime on Your Property
A UNC at Charlotte study illustrated that most burglars check for home alarm systems when picking a target. Sixty percent of the offenders interviewed said that they picked a different house to burglarize if the one they originally targeted had a security system. So, just the presence of your smart home security deters crime.
Smart Home Security Protects the Entire Neighborhood
Some people say that a house with a security system makes their neighbors without one a target for criminal activity. This argument simply isn't correct. Another study done by Rutgers University proved that your smart home security system's deterrence spreads to the houses around you, protecting neighbors as well. With enough security systems, neighbors can make the whole area safer.
If you don't have a smart home security system yet, contact a security integrator to help you customize the perfect plan for you and your family. These systems protect your property and streamline the ways you secure your home.
ABOUT SECURITY INSTRUMENT
Security Instrument is a full-service, independently-owned security integrator that offers numerous electronic security options. We serve thousands with commercial and home security in Delaware, MD, NJ & PA.
https://www.securityinstrument.com/wp-content/uploads/2019/10/kids-trick-or-treating.png
538
800
Bob Gamble
https://www.securityinstrument.com/wp-content/uploads/2017/04/logo-web-7.png
Bob Gamble
2019-10-25 15:33:35
2019-10-25 15:33:35
Smart Home Security and You: The Ultimate Superhero Duo for Halloween