Smart Home Security Starts With Your Smart Garage Door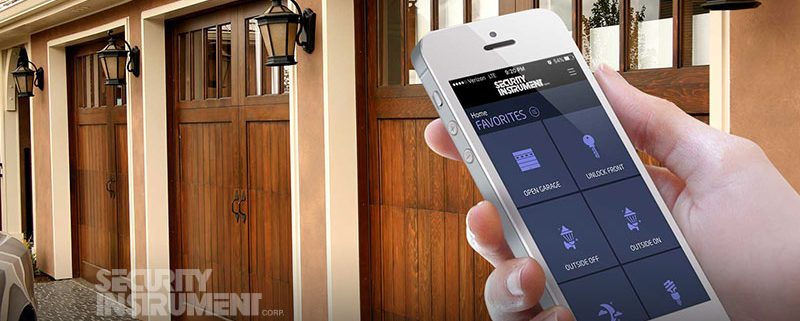 Latest posts by Bob Gamble
(see all)
Smart security sure has come a long way. Just a handful of years ago it would be difficult to believe all that is possible today with smart technologies connecting and enhancing a wide swath of security and convenience. While we enjoy all of the facets and elements of smart home security one element, the smart garage door, plays a truly pivotal role.
The Smart Garage Door is Key To Your Security
Securing the garage door is one of the most important, and most often neglected security actions. Over 90% of break-ins occur at ground level and a large portion of them through unsecured garage doors that lead to an interior door to the home. Over 70% of Americans use the garage door as their primary entrance. And it is not hard to figure that many, many people forget to close the garage door on countless occasions. That's why the smart garage door is a strategic security feature. It can close or be closed remotely, even when you forget and provide pop-up smartphone alerts when it opens at unexpected times.
Pro Tip: When the garage door is part of a smart home system, going or coming can trigger actions to limit energy consumption, which reduces your costs.
Keep Track of Activity
Since a smart garage door can provide pop-up alerts on your smartphone when activity is detected or actions are needed, you can keep track of the comings and goings of the entire family by using unique codes.
You Can Manage Access Like Never Before
The ability to open and close the garage remotely and provide unique, time sensitive codes is also a valuable feature in time and project management. You can always be two places at once (almost) to let in family, friends, or service providers even if you are stuck in traffic.
A Smart Garage Door Makes Your Home Even More Thoughtful
A connected garage door can mean a much more responsive home. When the system detects that the door is opening and closing, and who by using codes or geofencing technology, it can trigger other responses. When the door closes, for example, the clothes dryer turns to "away", the lights go off and the thermostat get turned down. Or when you draw near, the garage opens, lights go on, temperature adjusts, and the appropriate appliances are on and ready to go. It can also trigger an "away" sequence of events that it can turn off and on lights and music so that the home always looks occupied, making your home even more secure.
The Smart Garage Door Can Trigger Savings
Heating and cooling makes up the largest portion of our energy bills. When the garage door is part of a smart home system, going or coming can trigger actions to limit energy consumption, which reduces your costs.
Security Instrument is Delaware's largest full-service, independently owned security firm serving thousands of customers with professional and personalized service throughout Delaware, Pennsylvania, New Jersey, and Maryland.
https://www.securityinstrument.com/wp-content/uploads/2017/05/smart-garage-doors-in-wilmington-de.jpg
406
800
Bob Gamble
https://www.securityinstrument.com/wp-content/uploads/2017/04/logo-web-7.png
Bob Gamble
2017-04-22 17:33:24
2017-05-01 17:37:22
Smart Home Security Starts With Your Smart Garage Door