What is Biometric Access Control and is it Right For My Business?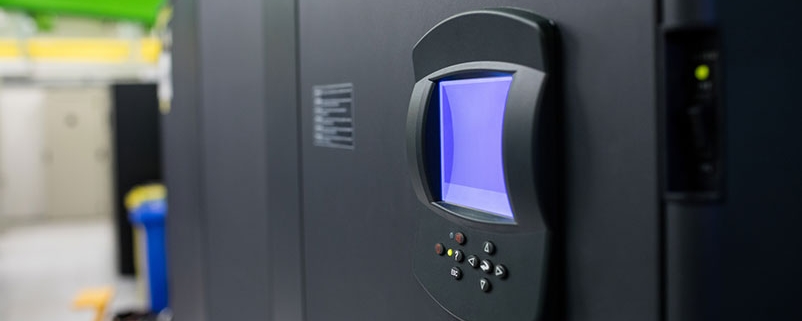 Latest posts by Bob Gamble
(see all)
Exchanging outdated door locking hardware with a wireless access control system is one of the smartest ways to upgrade the security at an enterprise of any size. At this point, it's inarguable that the ability to replace keys with electronic credentials has transformed commercial security for the better.
But is there an access control option for organizations that want even more advanced systems? There sure is. It's biometric access control, and it takes standard access control into cutting edge territory.
What is Biometric Access Control?
A biometric access control system is powered by infrared technology, which it uses to verify the identities of individuals who attempt to enter the controlled building or area. Often, biometric access control is associated with fingerprint scanning. True, fingerprint authentication is one of the most popular biometric ID technologies; however, biometric access control encompasses everything from facial recognition to retina eye scanning.
Using this technology, biometric access control confirms the identity of employees and other approved individuals entering an area; this may be contractors, vendors, or frequent visitors who exist in the database. These systems are designed to verify identities quickly and precisely, even when lighting is low. It is also designed to scan simultaneous subjects, so that groups of people entering at or around the same time can be authenticated one by one in seconds. This makes biometric access control perfect for large employers, public buildings and other applications where groups of people are entering in waves throughout the day.
Biometric Access Control Applications
At this point, you may be thinking that biometric access control is exclusively for high-profile locations. True, sensitive locations do benefit from it – but biometric access control can fit a variety of applications. Everything from aviation, to finance, to manufacturing, to healthcare regularly benefits from biometric access control technology. Even childcare is becoming an emerging opportunity for access control. With all these trades incorporating sites of different sizes and levels of security vulnerability, this underscores the wide range of needs access control can fill.
When it's time to consider enhancing building security with biometric access control, Delaware Valley organizations can contact Security Instrument for a complimentary consultation. We will be glad to speak with you.
About Security Instrument
Security Instrument is a full-service, independently-owned security integrator that offers numerous electronic security options. We serve thousands with commercial and home security in Delaware, MD, NJ & PA.
https://www.securityinstrument.com/wp-content/uploads/2019/01/access-control-bio-scan.jpg
364
802
Bob Gamble
https://www.securityinstrument.com/wp-content/uploads/2017/04/logo-web-7.png
Bob Gamble
2019-01-30 23:00:39
2019-01-30 23:01:39
What is Biometric Access Control and is it Right For My Business?