Simple Kitchen Tips for a Safer Thanksgiving Day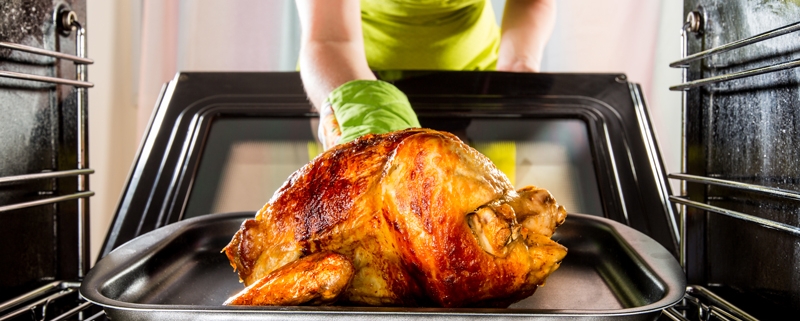 Latest posts by Bob Gamble
(see all)
Many people look forward to Thanksgiving Day and not just for the celebration with friends and family. While the celebration of thanks is great, most people look forward to the turkey, gravy, stuffing, and other delicious dishes. However, Thanksgiving Day is the busiest day of the year for firefighters because there are more than double the number of fire calls on Thanksgiving than any other day. Seventy-seven percent of these calls are cooking-related.
Be Proactive to Prevent Fires
There are a couple of ways to keep your house safe all year long. First, keep your stove and oven clean. Make sure they're free of dust and grease.
Next, test your smoke alarms regularly to make sure they're working correctly, and the batteries aren't dead. Smoke alarms serve as early warnings in fires to alert you to get out of the house. If your smoke detectors fail, then you or a family member could die in a fire because you couldn't get out of the house in time.
Always Remain Alert in the Kitchen
With so many fires reported on Thanksgiving Day, it's important to be attentive in the kitchen. It's easy for people to become complacent, and then safety flies out the window. Here are some tips to follow:
Stay in the kitchen when cooking on the stovetop so you can watch the food and avoid spills or other safety issues. If you need to leave, set a timer so that you don't forget the food you're cooking.
Remain at home, if not in the kitchen when cooking the turkey. Check on it regularly.
Keep the cords of kitchen appliances from hanging off the counter where a child could reach them.
Keep kids away for the oven, stove, and hot foods to prevent accidental burns.
Turn all pan and pot handles inward on the stove. Also, make sure pans are back from the edge or front of the stove so that no one can pull them off the stove or bump them.
Make sure that flammable items such as wooden utensils, towels, and oven mitts remain away from the stovetop or cooking area.
Keep knives up out of any child's reach.
These are just a few kitchen safety tips to makes this Thanksgiving the best ever.
ABOUT SECURITY INSTRUMENT
Security Instrument is a full-service, independently-owned security integrator that offers numerous electronic security options. We serve thousands with commercial and home security in Delaware, MD, NJ & PA.
https://www.securityinstrument.com/wp-content/uploads/2019/11/thanksgiving-turkey.jpg
547
800
Bob Gamble
https://www.securityinstrument.com/wp-content/uploads/2017/04/logo-web-7.png
Bob Gamble
2019-11-19 16:02:28
2019-11-19 16:02:28
Simple Kitchen Tips for a Safer Thanksgiving Day